2023 official MOJA poster artist
Alexandria Searles (Morowa Mosai), the 2023 MOJA poster artist. The featured painting, "Heritage," will be exhibited as part of the juried exhibition at City Gallery.
Artist statement:
Alexandria Searles, also known as Morowa Mosai, is a visual artist and graphic designer. Her style can be described as Afrocentric and Empowered Femininity. She is passionate about using her creativity to uplift women; especially women of color.
"The visual arts allows me to express myself. My art is a physical window to my soul. I am blessed to be able use this gift to inspire, advocate, and promote diversity across racial and cultural divides."
About "Heritage": "This piece is a part of my exploration into my Caribbean heritage, and how it connects to the Gullah Geechee heritage of Charleston."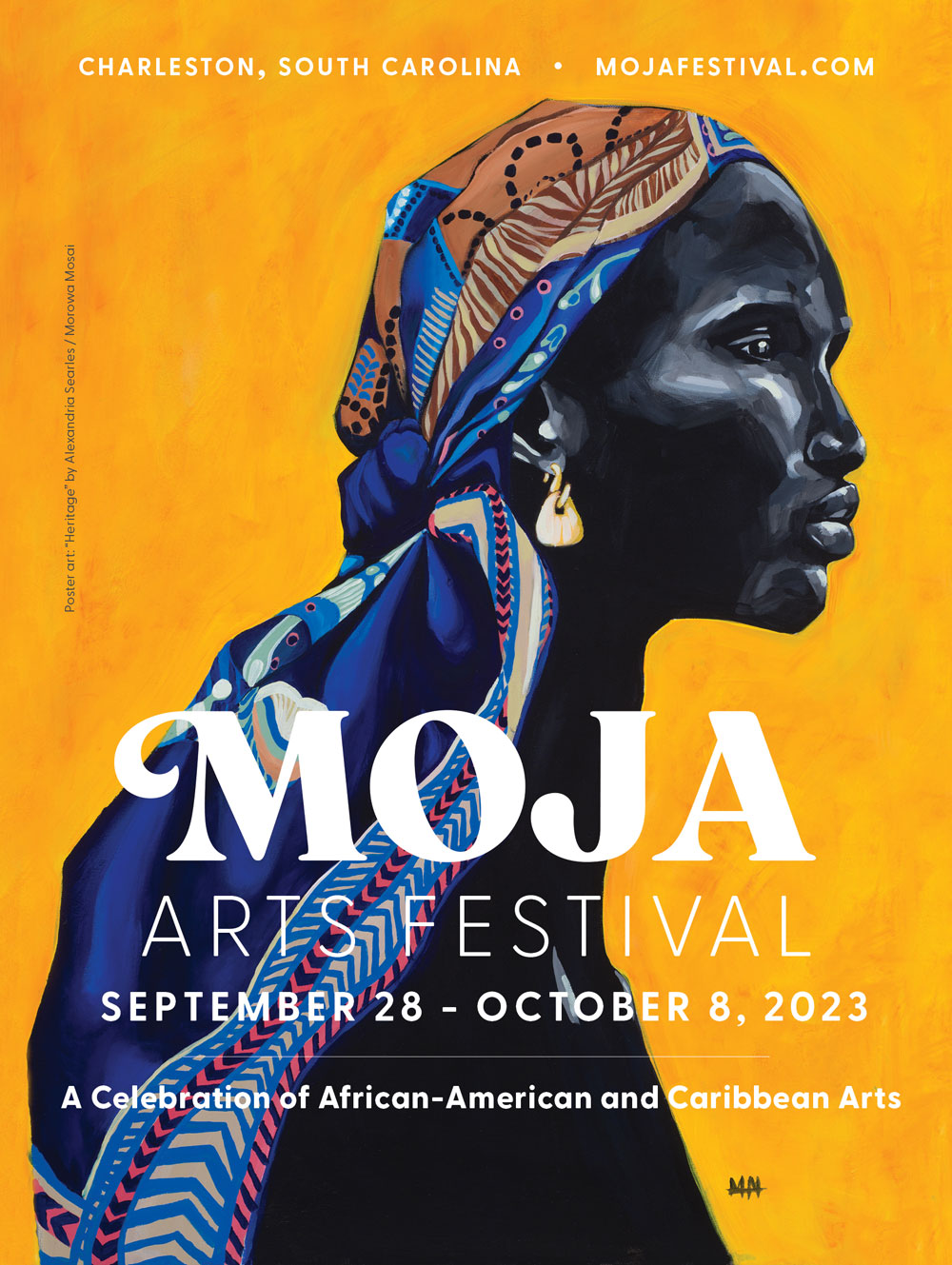 Alexandria Searles Bio
Alexandria's Afrocentric style is rooted in her Caribbean and African-American heritage. From her youth, she was inspired to create artwork that fully represented the excellence and beauty of Blackness.
Her work is defined by her portraiture and her colorful, expressive abstract pieces. Her mediums are digital, acrylic paint, and oil paint.
In 2015, she chose the moniker, Morowa Mosai, meaning "Queen Mosaic" to represent her work. Morowa, a Ghanaian name, became the title underneath her artwork, that inspired and touched many. Alexandria has worked with several non-profit organizations in the Charleston area, has completed three murals in the city, hosted several events, and completed illustrations for published works. Alexandria has also been featured at several speaking engagements geared to youth and women. She is currently in residency at Elevate at Brighton Park through American Landmark Apartments. "The purpose of art, is for people to see it… and feel." – MOROWA MOSAI
2023 MOJA Arts Festival Juried Art Exhibition


September 21-November 5




City Gallery
On view throughout the Festival at the Avery Research Center for African American History and Culture
The festival's annual juried art exhibition highlights the recent work of regional artists featuring painting, sculpture, drawing, printmaking, and photography. Artworks receiving prizes are presented alongside a limited selection of pieces identified by the juror as meriting display. The exhibition will be co-located at the City Gallery at 34 Prioleau Street and at the Avery Research Center for African American History and Culture at 125 Bull Street. This year's jurors are members of staff of the Avery Research Center: Dr. Tamara Butler, Executive Director; Daron Calhoun II, Facilities, Outreach, and Public Programming and Race and Social Justice Initiative Coordinator; and Brittney Washington, Outreach/Public Programming Coordinator.
Invited artists include: Fairoozan Abdullah, Brittany Alston, Cathy Alvarez, Mandy Bennett, Carlos Bilal, Chelsey Bradley, Lenora Brown, Shauntelle Brown, Susan Bryant, Julie Byrd Diana, KTC, Alfred Casciato, Owens Daniels, Diane Davis, Jeleata Nicole Davis, Sonny Dugal, Renee Fleuranges-Valdes, LySandra Gathers, Chloe Good, Valarie Greene, Monique Gross, Karyn Healey, Wonda Y. Hillard, Shannon Hopkins, Cynthia Huston, Cassandra Jenkins, Anne Jennings, Ben Kelly, Christopher Kyle, Verneda Lights, Jennifer Lutz, Cynthia Male, Ervin McDaniel, Dan Mohan, Donna Murray, Jirah Perkins, Shamsad Rahman, Najee Reese, Kevin Russell, Kathy Sample, Alexandria Searles, Cynthia Sims, Lauren Sloan, Princess Smith, Chantiana Staley, Andrea Stubbs, Courtland Sutton, Chakaris Thomas, La Toya Thompson, Sheldon Tremble, Nathalie Watson, Naima Whitted, Jalen Williams, and Myla Williams
LaVaughn Belle's "When The Land Meets The Body


through December 9




Halsey Institute of Contemporary Art
In this exhibition, La Vaughn Belle seeks to explore the relationship of history, land, and the bodies between them. When the Land Meets the Body presents a selection of existing work and new commissioned works inspired by the Lowcountry landscape. Through this process, Belle will consider the idea that who we are individually and collectively is a product of historical processes that are often represented in the landscape. Over the last decade, Belle's work has been centered in decolonial art practices that challenge the narratives in colonial archives. With this project, she will weave biography and history to create interventions in historical sites and consider how landscapes and ecosystems are manipulated by those who live within them.
This exhibition is supported by the Quattlebaum Artists-In-Residence Fund and the Department of Art and Architectural History at the College of Charleston. The exhibition is also supported by Mindy Seltzer and Robert Lovinger; Lynn and Jeff Trenning; and Neva and Richard Gadsden.

Fletcher Williams III's "When It Rain It Shines"


on view through December 3




International African American Museum
Using sculpture, sound, and light, Fletcher Williams III constructs a labyrinth of personal memories, rituals, and sacred hideaways. It is both a dreamscape and a psychedelic vision of what it is to be in and of the South. Both disorienting and inviting, this immersive installation offers visitors an opportunity to interact with the South in new and thought-provoking ways.
Williams is a multi-disciplinary artist from Charleston, SC. His work has been featured in multiple group shows and solo exhibitions throughout the United States.
This special exhibition is made possible by Bank of America.